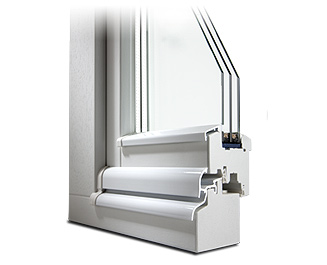 Striking profile with clear contours for the lover of classic forms.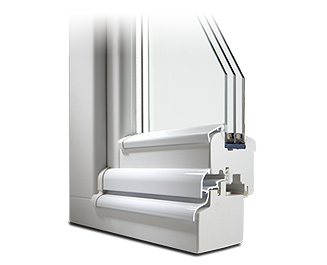 Rounded edges and soft lines provide harmonious overall impression.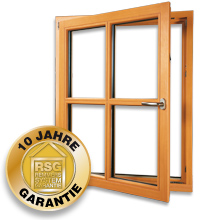 Wood and Wooden Windows + Doors from Germany
Wooden windows with 68 mm construction depth, have proved themselves over several decades through their classic design and flexibility of use.
The System IV 68 provides private constructors and architects the optimum solution whether it be a new building or renovation of an older property.
All our wood windows are manufactured in Germany. The individual window elements are all made of grade 1A wood and windows equipped with high quality components manufactured by leading companies, e.g. the fittings from Winkhaus.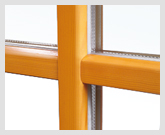 Bars of 26 mm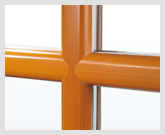 Vienna rounded design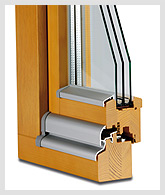 A distinctive profile combined
with clear lines
Wood Windows System Description
System and design
Multi-layer glued wooden scantling, available in pine or meranti woods.
Function
Standard glazing, heat insulation, noise reduction, safety window, sliding window, balcony or patio doors
Surfaces
Matt wood surface by dint of grinding or smooth planing
Factory-executed finishing to protect from UV-light and damp
Final finishing using electrostatic spraying method and environmentally-friendly paints and varnishes
The lower frame profiles which are particularly susceptible to adverse weather are protected by coated or anodised rain protection panels
Fittings
Winkhaus activPilot turn-and-tilt fittings with single-hand operation
Corner and scissor bearings with trunnions for up to 130 Kg sash weight
All fittings in modern stainless steel look, coverings provided where desired
Level switch lock as sash lifter and operation error lock
THE RSG 10-YEAR Quality GUARANTEE FOR WOOD WINDOWS
Windows carrying the 10-year RSG guarantee have been manufactured according to an innovative state-of-the-art coating process, unique in Europe, and according to the data sheets of the Institution of Door and Window Manufacturers (VFF). Wood windows with the 10-year RSG guarantee are only coated with products which have been completely tested according to European standards and requirements.