Aluminium, Wood and PVC / UPVC Entry Doors from Germany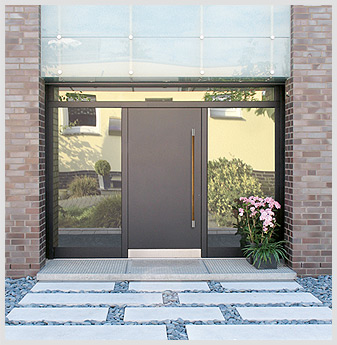 Schüco doors are made of aluminium and glass by which safety, design and heat insulation combine to produce a harmonious composition.
Extreme stability, stormproof qualities and superb surface finishings are characteristics of the Obuk range of Schüco doors and door panelling/filling [Haustürfüllungen - door or side panels?]. Door profiles and fillings are made only of aluminium. The electrostatic powder-paint coatings mean that all aluminium parts of Schüco doors are available in any of the standard RAL or DB colours and executed to the latest state of the art technology making them impervious to any weather conditions.
The house doors become the visiting card of the house. Schüco and Obuk are synonymous with highest quality standards.
Price request? - Simple on-line procedure
After reading through our brochure on house doors, please simply fill out the form below. We will reply with an offer as soon as possible. Or, alternatively, you can request to have our brochure sent to you by post.
Instructions on using the Doors Brochure:
1.
Find your favourite door type.
2.
Each house door has two names. The first refers to the model in plastic. The second refers to the aluminium variation
3.
Many of our doors are available in up to four different variations. Each model type is illustrated and numbered bottom right. Please refer to this number.
4.
Please also choose the type of handle you would like to have inside and out (pages 226-235).
On-line request form: Doors